Every summer I head to Bridgton, Maine for a couple of days to teach a floorcloth painting class at the Rufus Porter Museum. Bridgton is a great little town a little west of Portland, where many of Rufus Porter's murals have settled. I love teaching this class, as much for the class itself, but also for the chance to enjoy the loons calling on Highland Lake and to snoop around all the little shops in town, and of course to visit Porter's murals.
This year the class' project will be using an image originally created by Rufus Porter's nephew, Jonathan Poor. Each student will learn how to make a floorcloth to paint, how to apply soft washes for skies and water, paint trees and details and how to finish and use your  beautiful hand-painted 2'X3′ floorcloth. All materials are supplied- a prepared 2′ x 3′ floorcloth, paints, brushes, templates and instructions. You can also purchase the Clear finish for your floorcloth when you're there.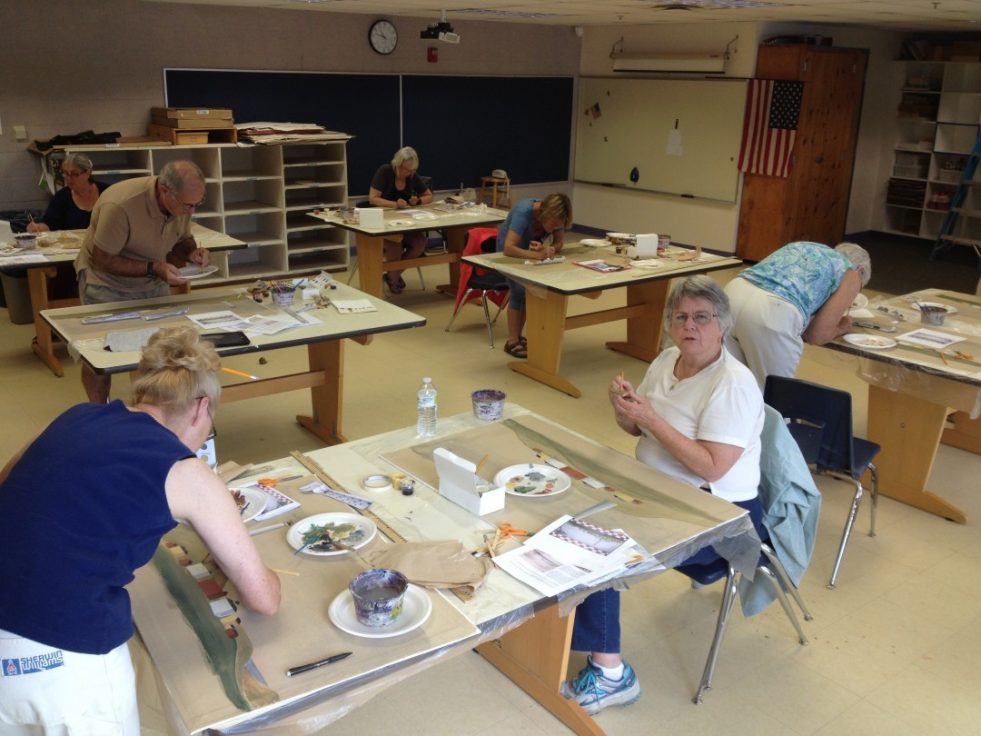 The class starts at 1:00 on Wednesday, Aug. 2 and finishes on Aug. 3 at 4:00. On Thursday the class will take a stroll to the museum to view some original Porter murals. You will need to book a place to stay for Wednesday night. No painting skills are necessary. I love helping newbies and experienced painters equally. My goal is that each student leaves feeling proud of her or his work and itching to do more!
You can sign up here by clicking the PayPal button below. If you don't have a PayPal account, just click on the gray "check out" button to use any major credit card. The cost is $195. The museum doesn't accept online registrations, but they have given me the OK to take signups and pass each on to them. Check out the other classes they have available at http://www.rufusportermuseum.org/curious-arts-series.