Unique Custom Floorcloths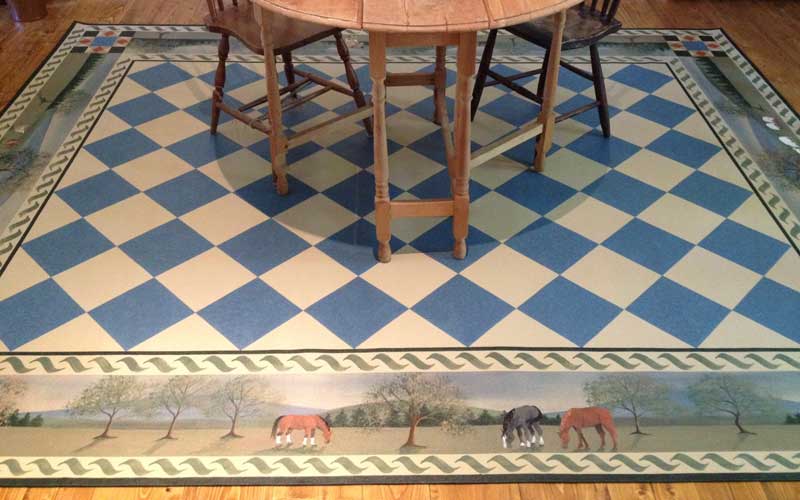 Floorcloths, also known as "oylcloths," date back to 15th century France, where canvas tapestries were used to cover cold stone floors. The designs often mimicked tile and marble flooring. The basics of a floorcloth haven't changed much since.
Canvasworks starts with the heaviest canvas available (#4 – 24 oz. per square yard) and prepares the surface so it is ready for painting. The intricate design is applied in layers of washes, building up to fine details. When complete, the floorcloth is sealed with a durable finish that is tough enough to withstand dogs, kids and furniture, but can be easily cleaned with a damp mop.
Backed by over 20 years of experience, Lisa Curry Mair specializes in creating large, artistic floorcloths in a folk-art style. The highly intricate, one-of-a-kind pieces of art for the floor can incorporate historic patterns, local landscapes or personal touches, such as special people and animals.
To get started on a floorcloth commission, click on "Project Inquiry" below and submit the form with details of your project. Looking for some inspiration? Check out the Floorcloth Gallery.
The floor cloth is exceptional! I ordered from the website without actually seeing or touching one of Lisa's works; it is everything and more than I expected. Lisa is professional and easy to communicate with, I feel privileged to provide a home for one of her works.
— Dee-Dee Logan, Virginia