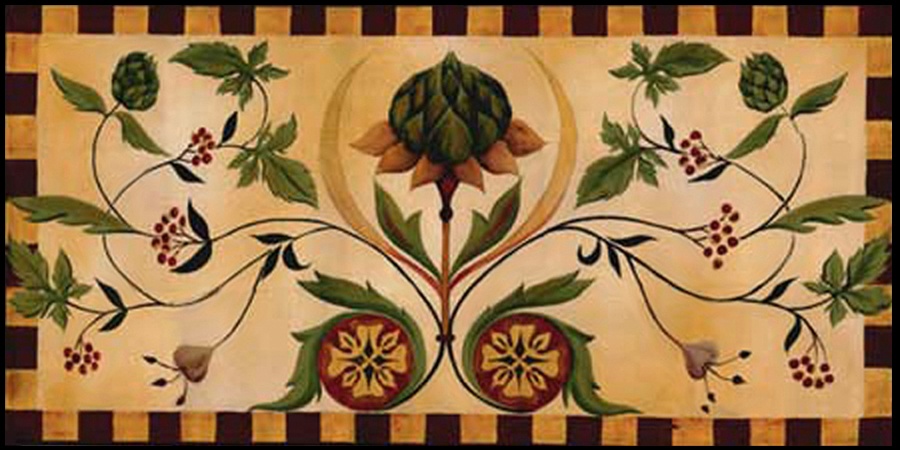 Floorcloth Design Process
Lisa Curry Mair works closely with each client to create a custom heirloom-quality floorcloth that will be perfect for your home, office, or equestrian facility. To get started, consider the following:
What size would work best in the room?
What colors would you like to incorporate?
What theme would you like?
Your floorcloth can be based on existing designs, as seen in the Floorcloth Gallery, or it can be a completely customized piece. Any size rectangle or square up to 20 feet long may be accommodated, although a splice is required for floorcloths over 9'6″ wide and preference is given to pieces over 40 sq. ft. Click here for the available colors and textures.
Once Lisa has discussed the project with you, she will work up some ideas and rough sketches. When you've agreed on the content for the floorcloth, a to-scale color drawing will be provided for your approval.
Over the next few months, Lisa will create your floorcloth in her studio using traditional painting techniques to create historical images and beautiful textures. The canvas texture shows through creating an aged, elegant charm. Several layers of protective coating will make your floorcloth tough, durable and easy to clean. Installation is easy – simply unroll and enjoy!
To get started on a floorcloth commission, complete the "Inquiry Form" below. Looking for some inspiration? Check out the Floorcloth Gallery.
"We love (our floorcloth) and everyone who sees it loves it!!"
— Bonnie, Kentucky
"I am sending my huge thanks for the absolutely perfect floorcloth. It looks exquisite in our dining room, and every guest has commented on its beauty! It is better than I ever dreamed. Looking forward to working with you again."
— Lorna, New York
"We LOVE our floor cloth. It is perfect on the porch."
— Ann, Vermont