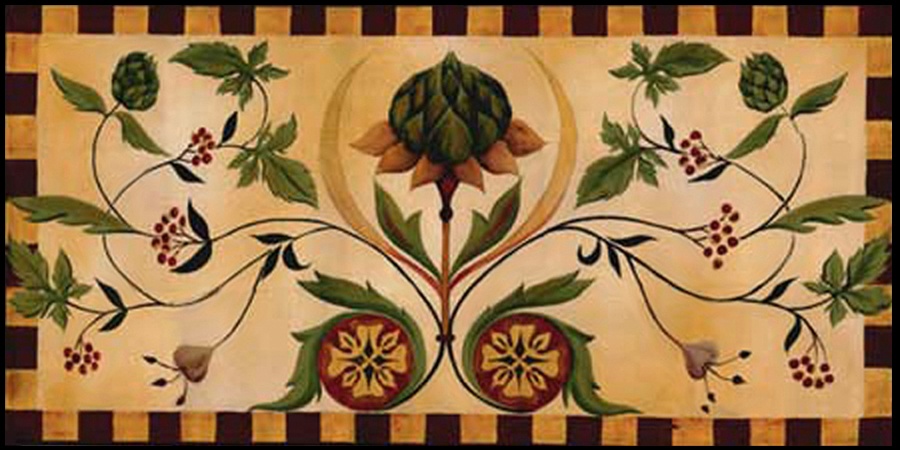 At Canvasworks Designs, Lisa Curry Mair creates exquisite floorcloths specifically designed for your situation. From early American to contemporary, each piece is unique and hand-crafted to ensure lasting beauty.
Where is the perfect place for a floorcloth in your home, office or equestrian facility? Perhaps a floorcloth under the dining room table will be the perfect addition, tying the interior design elements together? Painted canvas rugs are a fabulous focal point in entryways, front halls and tack rooms as well. The possibilities are endless.
The process of ordering your own custom canvas is simple, creative and rewarding. It all starts with just a few details:
What size do you need? Measuring the area in advance makes everything easier!
What colors will work best? Consider your current (or planned) color scheme.
Do you have a design in mind? If you're already thinking of a theme or motif, let us know. Lisa is happy to work with you or your designer to incorporate ideas and themes into a beautiful and cohesive design.
Contact Lisa (use the Inquiry Form) to discuss your room, your needs, and your ideas. She'll then create a layout of your floorcloth and send it to you, with no obligation. At Canvasworks Designs, each floorcloth is made as it is ordered, which gives Lisa the ability to make your floorcloth exactly as you like it: the perfect size, design and colors for your interior.
Once a design is agreed upon and officially commissioned, your order will be placed into the production schedule.
Canvasworks Designs uses the very best materials. The canvas is the heaviest available.  The #4 (24 oz. per square yard) cotton duck canvas is used for room-filling floorcloths. Many other makers will use a #10 (12 oz.), or lighter canvas. Heavier floorcloths lie flatter to the floor and last longer. Lisa has also worked exclusively with Sherwin Williams to develop a long-wearing and durable paint for her floorcloths and murals and she can also match any color perfectly.
There is no guess work with floorcloth created by Lisa at Canvasworks Designs. The details are decided upon ahead of time and if your custom piece isn't as described in your Commission Agreement, a full refund or redesign is offered.
Try It Before You Buy It
Trying to envision a piece of custom art in your interior space can be difficult. Using digital technology, Lisa can show you how a floorcloth or mural will look on your floor or walls. This provides the ability to "try it, before you buy it" and is also helpful in adjusting design elements. Send Lisa a clear, uncluttered digital photo of the space, room or area and and your initial design idea will be applied, giving a better impression of how the piece will work in your selected space.
Below is an example photo sent by a client: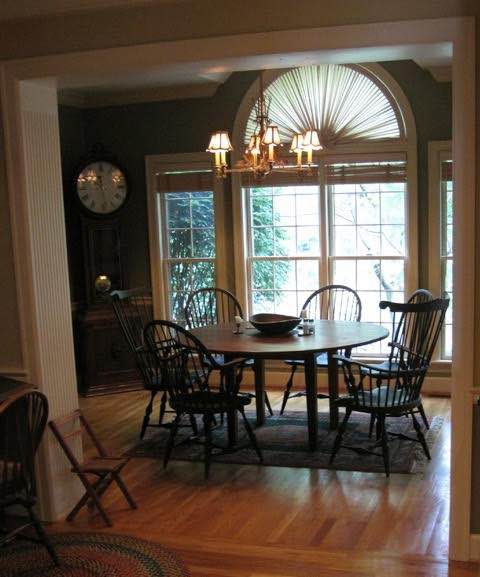 Later that day, they received the photo below, showing how their new floorcloth will look in the context of their own room.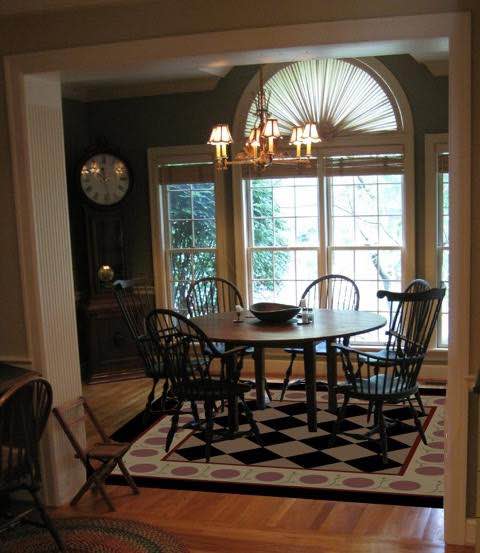 And here's a look at the final product!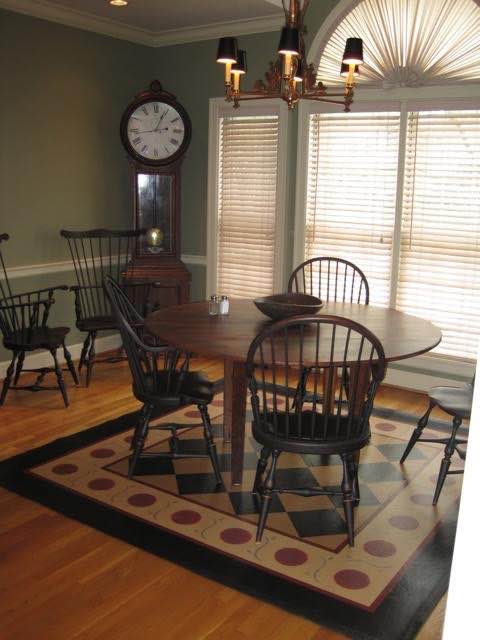 Use the Inquiry Form to describe what you're looking for in a floorcloth design. As long as the floorcloth is more than 30 square feet (5′ X 6′ for example), all of the custom design work is included in the price of the floorcloth. If the floorcloth is smaller than 30 sq. ft. there's a design fee of $100 per hour. Please allow two to three days for Lisa to get back to you with a design.
An Original Design Starts with Your Input
What is your interior space like?
What is your lifestyle like?
Will this be located in a high-traffic area?
What colors do you decorate with most and are naturally drawn to?
Is your home or building historical or modern?
These are some of the questions that Lisa will review with you to better understand your design needs. Armed with this kind of information, photographs, magazine clippings and anything else that you think will help Lisa to better understand your design goals, she will go to work preparing a full-color, to-scale rendering of your custom Canvasworks Design piece. You will receive the drawing (in some cases more than one, depending on the complexity of the project), a quoted price for the piece and an estimate of the completion date.
Lisa encourages her clients to take as much time as is needed to decide what design will work best for them. She can make adjustments in color and/or design and if needed, can begin anew with another concept.
The end goal is to provide the finest quality heirloom piece unique to you and your surroundings that will enhance your interior space for years to come.
"We love (our floorcloth) and everyone who sees it loves it!!"
— Bonnie, Kentucky
"I am sending my huge thanks for the absolutely perfect floorcloth. It looks exquisite in our dining room, and every guest has commented on its beauty! It is better than I ever dreamed. Looking forward to working with you again."
— Lorna, New York
"We LOVE our floor cloth. It is perfect on the porch."
— Ann, Vermont