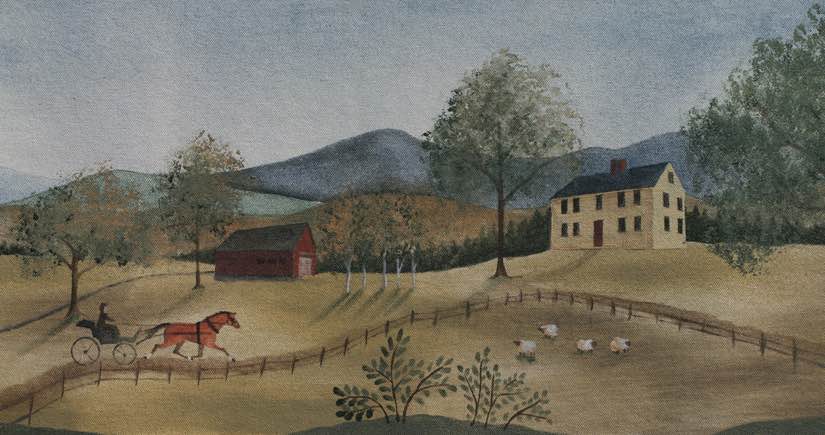 Do you have a home, church, barn or town building which owns a place in your heart? Memorialize that special place with a painting. With rich, historic colors and the artist's signature attention to detail, your personalized painting will transport you to that place and time. Once you have decided on the content, a full-color to-scale sketch showing composition, layout, figures such as horses, dogs and people (if requested), will be presented to the customer for approval, prior to the execution of the painting.
Paintings are done in acrylics on canvas mounted on board. They can be created in any size rectangle or square up to 6 feet wide and are delivered ready to frame. An option for larger projects is a wall hanging, which is painted on canvas and has top and bottom rod pockets.
Each piece is highly customized. Please allow 4-6 months for completion. A deposit of 30% is required when the custom design is approved.
Customized  paintings:
Individually hand painted on canvas, mounted on board.
Various sizes from 10″ X 12″ to 24″ X 48″……………………. $600 – $4500
Customized wall hangings:
Individually hand painted on canvas, with rod pockets top and bottom.
3 ft. X 6 ft: ………………………………………………………. $2500
4 ft. X 8 ft: ………………………………………………………. $4000
Custom Sizes over 10 sq. ft: …………………………………..….. $150/sq. ft. + $500
You may also be interested in Fireboards.