Transform Your Interior with a Custom Folk Art Mural on Canvas
Hand-painted custom murals showcase beautiful historic New England scenes, foxhunting scenes reminiscent of the 19th century, or peaceful landscapes in your front hallway, dining room—anywhere in your home. View our Mural Gallery to see several completed mural projects Lisa has created over the years.
Created in the Canvasworks studio for your home
Here's How it Works:
When you have chosen the place for your mural (hall, dining room, tack room, etc.) go to the Inquiry Form to give Lisa a general description of the content or theme of the mural (New England farm, foxhunt scene, etc.) and the dimensions of the wall(s) where the mural will hang. Lisa will be in touch with you within a day or two. If you live in NH, VT or MA, Lisa can come and meet with you, discuss the project, and take photos and measurements. If you don't live in New England, the entire process can be done by sending photos and careful measurements.
When Lisa has had a chance to work up some sketches and preliminary ideas usually within a few weeks), you'll receive a painted sketch (on canvas) as a proposal for your project. With this sketch Lisa transposes the scene to photos of the room, allowing you to see exactly what your mural will look like on your wall.  At this point, you can suggest changes to the scenes and double check the measurements.
Over the next few months, Lisa will create the artwork on canvas in her studio. Unlike her relative, Rufus Porter, she will not be underfoot in your home! Lisa uses a wet on wet technique (very similar to watercolors) to create very soft skies and backgrounds. The canvas texture shows through and creates an aged, elegant charm.
Installation
When the mural is complete it is rolled and shipped to your home. A professional wallpaper hanger will apply the mural using heavy wallpaper adhesive. The finished product looks like it has been painted directly on the wall. And, should you move to a different house, you can take the mural with you and hang it again! Individual paintings can be created as wall hangings (with rods), fireboards or framed or unframed artwork (click here for Art Galleries) .
"It arrived! And it is beautiful! We all love it!!! It was well worth the wait! The design and the colors are perfect!"
— Joan, Massachusetts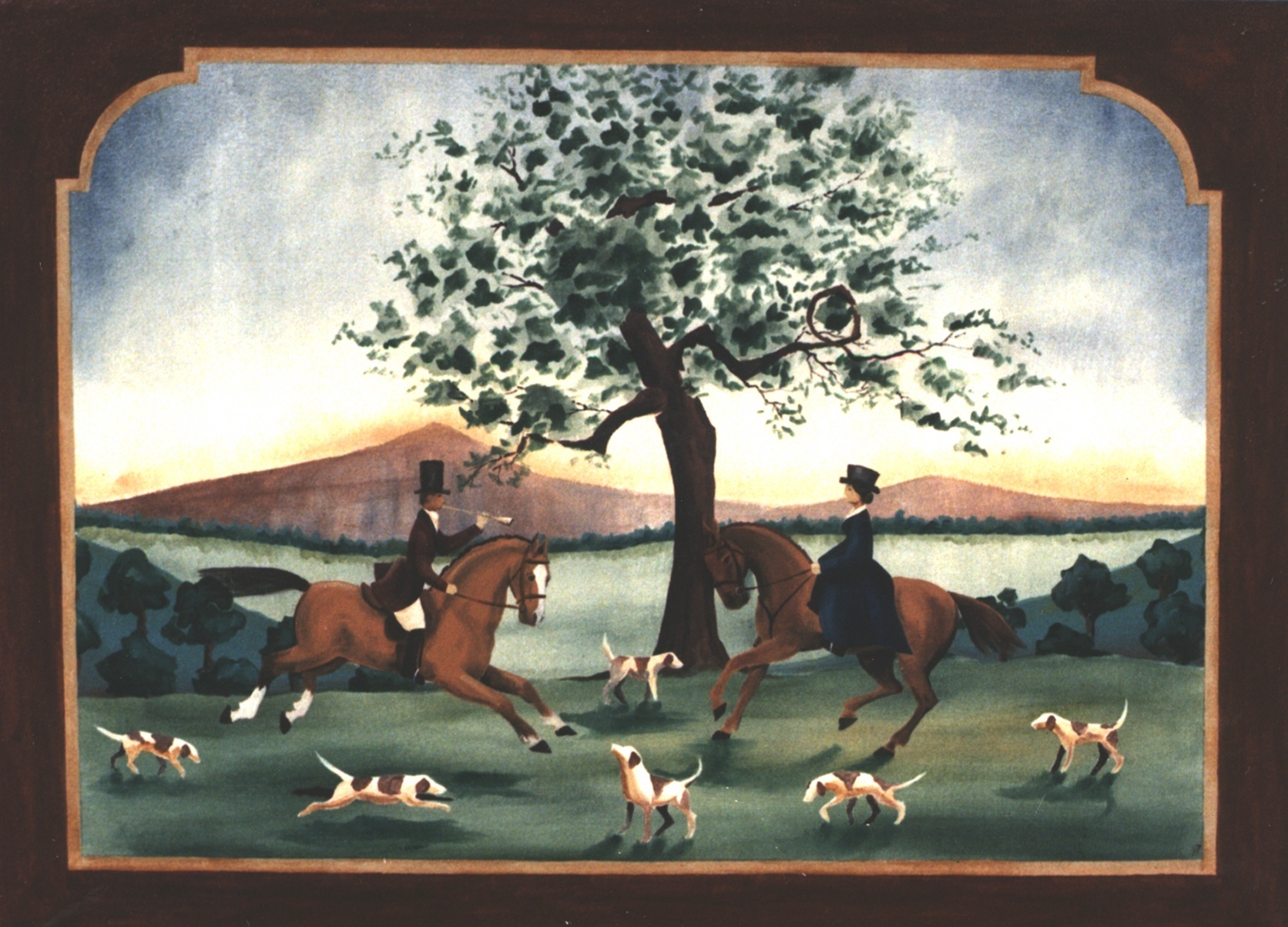 Lisa's paintings (as opposed to murals) are painted on canvas mounted on board. They are carefully packed and shipped to your home, ready for framing. Another option is to have Lisa paint a frame on your piece, then no framing is required. See our Paintings Gallery for details.
*If you live outside of the New England area, the site review can be done by Skype. We'll walk you through the measuring and photography process.