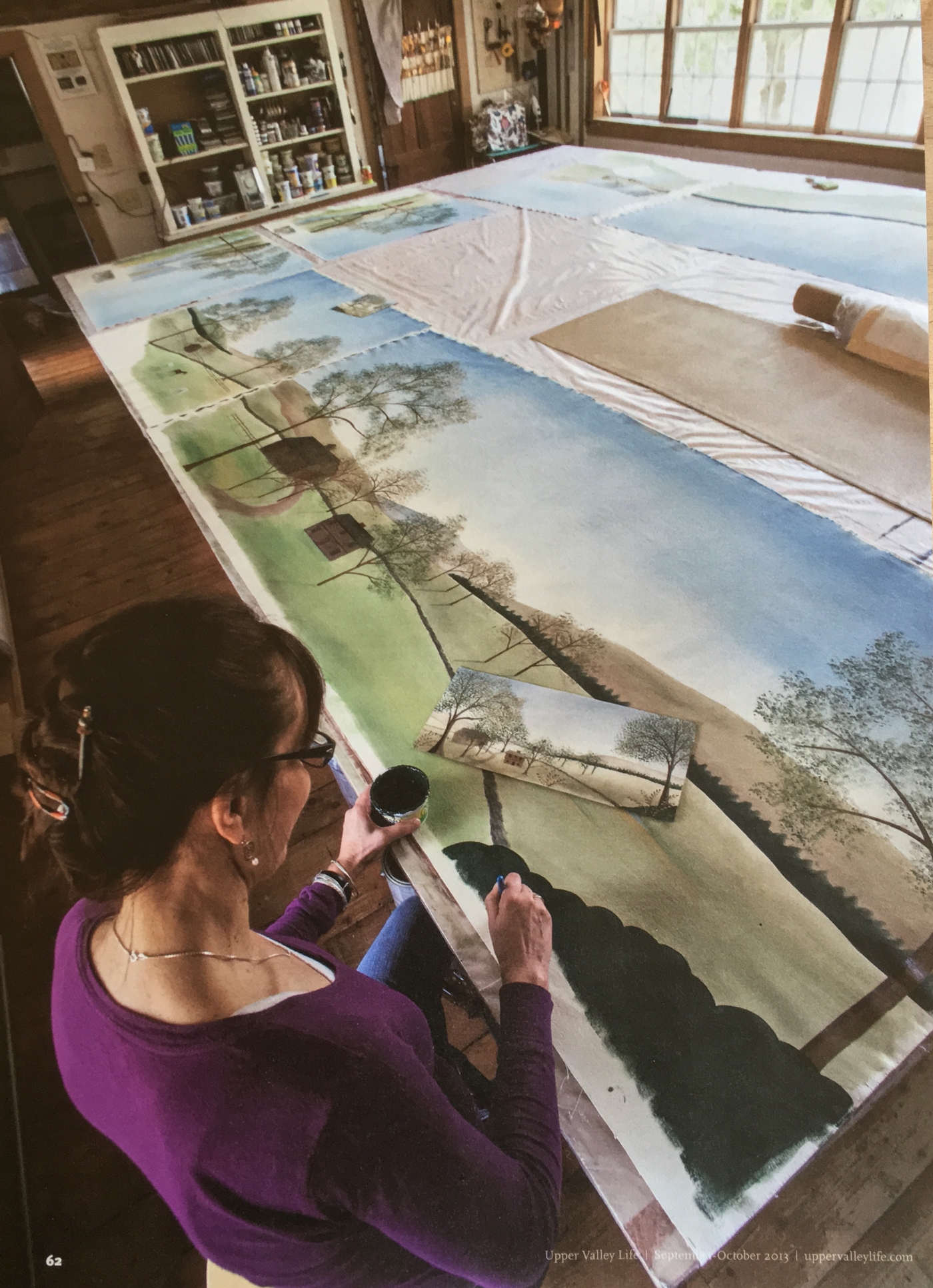 If you are interested in having a canvas mural created for your home, fill out the "Inquiry Form" or if you're in New England, just call the studio to setup a site visit in your New England-area* home. After Lisa has reviewed your request or come to your home for a site visit, and has taken measurements and photographs of the prospective mural room(s) and discussed with you the theme of your mural, she will create a painted sketch (on canvas) of your mural. With this sketch, she is able to transpose the scene to the photos of the room, allowing you to see exactly what your mural will look like on your wall. At this point you can suggest changes to the scenes and double check the measurements.
She can also use other visualization techniques such as 3D interpretations of the space. Lisa takes pride in giving the customer as much visual information as possible prior to the order being placed. She feels she can create the piece more confidently, knowing that nobody is going to be surprised by the outcome.
Over the next several months Lisa will paint the murals on canvas in her studio. Unlike her relative, Rufus Porter, she will not be underfoot in your home! Lisa uses a wet on wet technique (very similar to watercolors) to create very soft skies and backgrounds. These are applied while the canvas is lying flat- impossible to do vertically on the wall! When the mural is complete it is rolled and shipped to your home. A professional wallpaper hanger will apply the mural using heavy wallpaper adhesive. The finished product looks like it has been painted directly on the wall and the bonus is if you move to a different house you can take the mural with you and hang it again!
Call the studio to discuss pricing and to set up a site review.
*If you live outside of the New England area, site visits may be done via Skype.
"We absolutely love our mural –it is spectacular! We still drop our jaws in awe everytime we go to the ranch and see it.  You did an amazing job… Thanks again for the magnificent piece of art–we couldn't be any happier."
-Katie, Santa Ynez, CA