Authentic Museum Quality
Recognized Expertise in Historical Research, Design & Fabrication
"We received the floorcloths today and we are thrilled. They look so fabulous in the room – shape, design, colors. Perfect. Thanks so much!"
— Lori, Maryland
Floorcloths can be traced back as far as 14th century France and were widely used in America in the 18th and 19th centuries right up until the time linoleum was invented in 1860.
Lisa Curry Mair has researched the history of floorcloths extensively, and has reproduced dozens of pieces for museums throughout the country. One of her recent reproductions was created for Boston's Museum of Fine Arts' Art of the Americas wing. Lisa advised the museum on an 18th c. floorcloth design, which she then fabricated and delivered to the museum. It is on display in the "Regional Styles" Gallery.
Consultation services are offered to museums and historic homeowners by Lisa Curry Mair, a leading authority on period floorcloths. Lisa will identify suitable historic floor coverings for restoration projects and provide planning and pricing for commissioned reproductions. Please contact Canvasworks Designs to set up a consultation.
The following are examples of commissioned museum pieces created by Canvasworks Designs (Click on an image for more details):
Recreating Historic Patterns
Filling Each Historic Home's Specific Design & Research Needs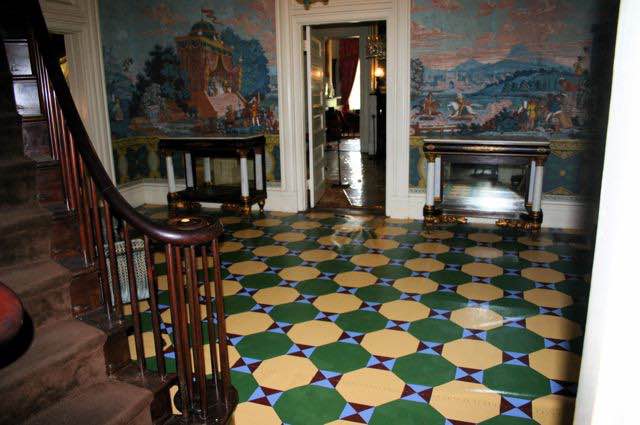 Depending on the project, Lisa will travel to the site to review the characteristics of the museum or historic home and to gather important information such as the period being represented, exact measurements and installation needs and limitations.
Sample swatches will be prepared if requested (extra fees may apply) and if samples are provided, it may be possible to create reproductions from existing remnants.
The piece(s) will be fabricated at the studio and shipped by insured freight to the museum, ready for installation.
"I love the floorcloth! It is beautiful and looks great in my den. The workwomanship is spectacular."
— Nancy, New York