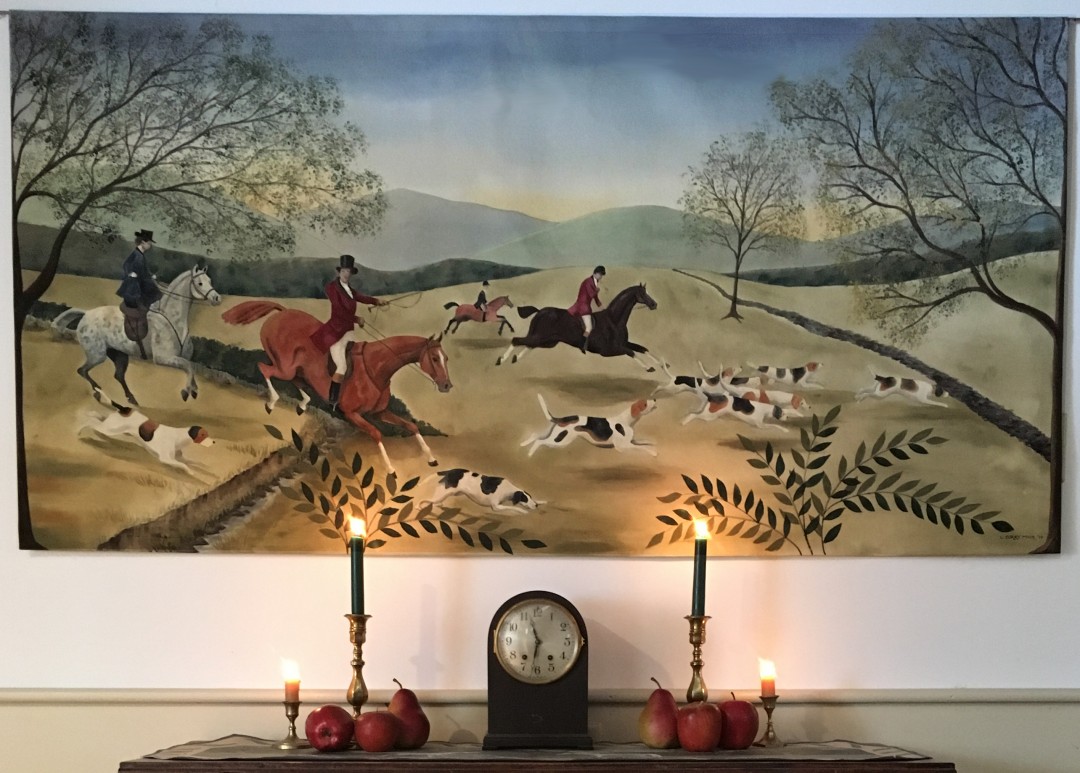 This is the third 3ft by 6ft canvas Hunting Scene wall hanging I have completed this year. These are so much fun to paint as they fall somewhere between a painting to be framed and a mural. I guess all of my years painting large floorcloths has paid off. If there's one thing I know how to do, it's painting on a large scale! I use old hunt prints for inspiration and try to develop a strong sense of movement as the field gallops across the countryside.
It's interesting looking at the old attire. I love all the top hats, Pink coats and side saddle habits. I guess there are still die hards who insist on a top hat, but most of the riders you see in the hunt field today are wearing ASTM certified crash helmets, as falling off is always a distinct possibility! Horses and hounds haven't changed much and the hunts seem to still be able to find open countryside with board fences, stone walls and ditches.
I am working on a painting now which will just be hounds, jumping down over a fence. This one is not commissioned and it will become one of my "collection" of paintings which will be available for sale. Stay tuned to this website to see when these are available. Please feel free to spread the word about these new endeavors. Up until now I have always worked on a commissioned basis. You can see more of my old hunt scenes paintings by going here.
The above wall hangings may be ordered in just about any size and I can customize the scene with likenesses of particular horses and people if you like. Use the "Contact Lisa " button If you have questions or would like more info, use the form below. Thanks!